I was originally supposed to do the update post on July 4th but ended up doing something else and I had my birthday yesterday, so here is the update.
First and foremost, I sent out an emailer today with 90+ jobs and some remote working resources. That is way better than last month where I didn't send anything.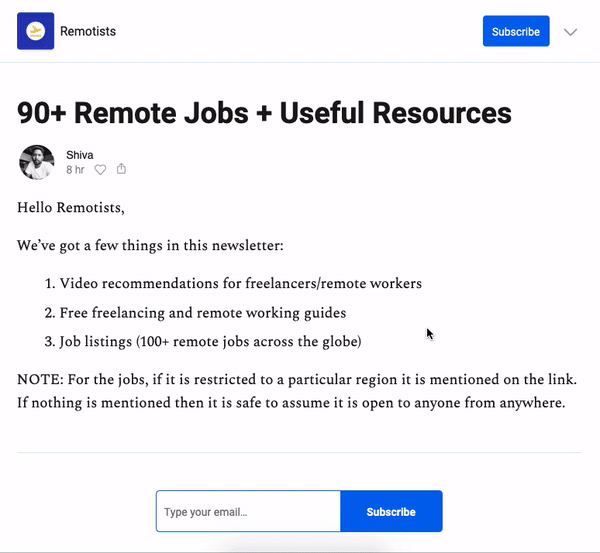 My subscriber numbers have not really changed, in fact I got some unsubscribes after I sent out the email stating that the direction for Remotists is changing.
Pretty lukewarm response to say the least but I'm certain things will turn around. I hope the open rates don't drop since I am sending an email after a long time. As of now it is at 19% but again, most of my audience has been sleeping for the last 10 or so hours.
I also took some steps to add more value to the subscriber base. On that front, I reached out to a few of the top YouTubers in the digital nomad/remote work space.
I also got a potential few interviews with indie creators after this IndieHacker post. I'm hoping I can get some good content there as well.
I also got some advertiser interest in the newsletter regarding a job posting. I hope that comes through, it will be good to see this project starting to make some money.
As far as the website redesign goes, I've done a basic design at this point but this will not be even close to the final one. But here is where I'm at this moment.
The final design will take some time but it not a priority at the moment.
I also got a little more active on Twitter in my personal account. I do not like Twitter but I'm just there to make sure I can "capitalise" on any potential collaboration and promotion opportunities.
Lastly, I added the DigitalOcean & Wix affiliate links to my newsletter because you can never have too much cloud storage and money. So those were all the updates for now.
In the next couple of weeks I want to do the following:
Create a pipeline of non-job listings related content for 4 weeks

Get 10 interviews scheduled with others in the ecosystem

Attract 20-40 more Twitter followers

Create the script for the first YouTube video around remote working cities

Create content for the resume review/preparation page

Create a newsletter every 4-5 days (3 times) in the next 2 weeks.
Next update will be on July 21st.
Illustrations from Icons8.com/ouch